Back Buzz - October 7, 2018
It's been another year with a September visit to America. This time I didn't venture any further than the Los Angeles/Long Beach area, aside from a side trip to the mountains at Big Bear. But I did sample a few new coffee cafes.

My friend Mistah Rick drove down from the Bay Area to spend a few days exploring new breweries with me. On our second morning, fresh from a night spent at my mother's cat-filled house in Long Beach, we decided to start out with a coffee in Seal Beach.

Located around the corner from the beach end of Main Street, with a view of the sand, the ocean, and the Seal Beach Pier, Bogart's Coffee House has a real California beach feel to it, with casual wood tables, living room furniture, and big front windows allowing for plenty of light. The cafe was opened in 2002 by Bud and JoAnn Adams with the intention of turning it into a community gathering spot. On this Wednesday morning a few Seal Beach locals were in attendance, obviously in no hurry to finish their drinks and breakfasts.

At the counter I ordered a double macchiato with extra foam, Rick ordered a double cappuccino, and we took a seat at the window. My macchiato was served in a giant white mug, but fortunately it was only half full, and the coffee was nice and strong. Somehow, thanks to the slightly confused person who took our order, Rick's "double cappuccino" got translated to a "double cappuccino with extra foam". But fortunately it wasn't like the washing machine disaster we'd experienced on the previous day (and which will be described in next month's column). Rick had ordered a croissant for us to share, and it arrived nicely heated, which I appreciate. I mean, a croissant with one's coffee should at least be warm -- and it's even better if served with a pat of butter, but you can't have everything. We were both pleased to find the coffee strong and robust as well, as we were about to journey into the wilds of the business parks of Anaheim and definitely needed our loins girded with some caffeinated inspiration.

As we sat and sipped and nibbled and enjoyed the subtle breeze from the two overhead ceiling fans, I quickly scanned the walls of the cafe. Not surprisingly for a cafe called Bogart's, central to the decor is a giant print of Humphrey Bogart, and there are lots of other pictures including a painting in the corner that intrigued me. It was a recent smiling image of what appeared to be a regular Seal Beach gent. As it turns out, the man is Michael Pless, a local surfer known as the Saint of Seal Beach. Not only does he co-owner with his son the nearby M&M Surfing Shop and School, but Pless also rides the waves every Christmas dressed as Santa Claus. I suppose somebody's gotta do it...

Bogart's also offer bagels, paninis, crepes, iced drinks, milkshakes, shaved ice, and other Southern California beach treats you'd expect -- and they have lots of espresso options. They sell organic coffee beans as well, both single origin from around the world as well as blends. There are live music events in the evenings, including a Folk and Roots series every first Thursday of the month and Open Mic nights weekly on Tuesdays.

When we left we noticed the four benches outside on the pavement all have memorial plaques, including one to a sadly short-lived boy and another dedicated in 2014 to the Lightning Velo Cycling Club of Long Beach. And when I checked out their website later I discovered the link to their webcam which offers a nice view out onto the Seal Beach Pier. I admit that both times I looked, it was late morning back in the UK, so the view I got was in the middle of the night and pretty dark, and I couldn't see much. In my memory of my childhood there still would have been people fishing on the pier at that hour, but the pier lighting was too bright to make anything out. I'll have to remember to check it out later in the day, just to see if I can tell what they're catching -- or at least what they're snacking on. But by later in the day I probably won't remember to do this.

Speaking of not remembering reminds me of an extremely recent Facebook posting session:

I know it's around here somewhere... At least you can still remember what "it" was... You're more certain about that than I am! No, he's forgotten it by now. Forgotten what? What? Huh? What were we talking about? Why did I come in here? And how long have I been here?

It'll be in the last place you look for it. How did you know? Psychics always amaze me. They always seem to know the answer before the question is asked. What's up with that??? Haha, I knew you were going to say that. Cause then you will stop looking for it...second grade riddle. This morning I ran up to the attic to grab this card for Andrew's birthday. And when I got up there I nearly forgot what I went up there for.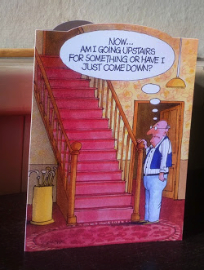 Related Links