Back Buzz - February 12, 2017
The Depot Bakery, 92 Burton Road, Neepsend, Sheffield, South Yorkshire
A few months ago I popped into the Urban Pantry in Crookes after reading that they are now selling croissants and doughnuts, fresh from a local bakery, on the weekends. I bought one of each, and as I walked out and down the street, with my conviction that croissants should really be eaten fresh, I took a nibble. And I was stunned, and very pleased, to find that these are the best croissants outside of France that I've ever had in the UK. (I can only imagine the sight of me strolling, almost skipping, down Crookes Road moaning in delight as I openly brandish my flaky pastry of perfection. But I'm used to the locals thinking I'm a bit weird.) A few weeks later I was at my local Beanie's where I was excited to find a New York Deli Rye loaf for sale from the same bakery. The bread, toasted, was delicious, with a distinct sourdough flavour and a wonderful chewy crust.
So I decided, even though it's a bit out of my way, that I must really visit The Depot Bakery. One weekend day I walked down into the valley below Walkley and crossed over the River Don. Instead of heading left to the Gardeners Rest which would be my inclination I turned right, and then veering left I followed the signs to the Depot Bakery The cafe is actually called the Depot Eatery, but the bakery is completely open to view behind the counter. It was 2:30 on a Saturday afternoon and the large open space was sparsely populated with mostly young people enjoying light late lunches.
The counter is full of pastries and there is a fresh bread loaf rack on the side wall, which sadly was depleted by this time of day. I ordered a double macchiato to drink there as well as a plain croissant and jam doughnut to take away, and then I seated myself at a table over on the side. The other drinks on the menu include a hot Mayan Chilli Chocolate, which sounds quite tempting for a cold snowy day (which we may have again at some point). My macchiato was served in a caramel-orange tulip cup and had a nice initial bitter punch with a luxuriously smooth and mellow finish. The food menu features egg dishes and various offerings on sourdough toast, which makes sense as the other loaf I've since tried from the bakery, the granary bloomer, also possessed that sourdough character and chewy sourdough crust. I still haven't had the chance to try their actual sourdough bread because it always seems to run out first at my local shops.
The Depot Bakery is a little out of my way, and it was going to be a long uphill walk back home. But still I looked forward to my walk across the Ball Street Bridge and onward in search of a more meandering and interesting route home. Crossing the bridge I was rewarded with a pleasingly surreal sight. And that's when I realised my weekends are begging for more exploratory adventures.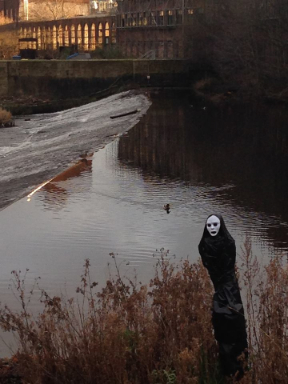 Speaking of surreal things reminds me of an e-mail exchange from last year with my Bay Area friend:

A couple of years ago I set up a Google Alert set up which sends me pages and posts found on the Internet having to do with the term "coffeebeer". Unfortunately it's so lenient that it sends me anything with "coffee, beer" or "coffee and beer", which means it's a bit useless. But this particular page [about 3D printing with coffee, beer, and hemp] got me really excited, especially as the novel I'm currently writing involves 3D-printing using all sorts of unusual print media. I would love to have a pair of cappuccino-cup earrings printed out of coffee, as well as pint glasses printed out of beer. This is mind expanding! The juxtaposition of two unrelated 3s -- 3d printing with 3 filaments (with elements unconnected to most people, even though two of them are dear to our hearts) -- made something click in my head.

What if you could use the 3 filaments to extrude objects into new dimensions orthogonal to our familiar length, width & height? What sort of objects would you chose to create? What sort of perceptual device would viewers need to perceive them the way the designer does?

Related Links