Back Buzz - January 31, 2016
I apologise for this column being so late, but The Game of Life has been occupying my time, my mind, and my activities for the past couple of months. I do have a new list of coffee venues in Sheffield that I'm looking forward to investigating, but they're all a bit of a trek for me so the time element has to be taken into consideration for these expeditions. But I will try to plan ahead next month.
Meanwhile, I've been slightly curious about a café I often see when I'm doing pre-work errands in town. Located on a pedestrian walkway that runs up the right side of the Sheffield Cathedral, the strangely named Eten Café Bistro and Tearoom is located in the same spot where Pollard's Coffee once had a branch years ago. About a year ago I'd walked past to get a peek through the window, and when I spotted the espresso machine I added this to my prospective cafe visit list.
So last week I made time before work to stop in and see what Eten was all about. As it's more of a restaurant than a café I was seated by a waitress at one of the little tables in the centre of the room. An older woman was sitting at a corner table, and she immediately spotted me and told me the homemade scones are delicious. She then told me she comes here every Thursday morning to treat herself to a scone. As nobody else was seated on that side of the room I was worried for a minute that she was going to continue to idly chat with me. (It isn't that I'm so unfriendly – it's just that my daily schedule these days is slotted down to the minute, and I had only a scant 25 minutes in which to drink my coffee, take my notes, and run off to work. Yes, I do run everywhere because I figure it adds a few more minutes to my day.)
As I looked around the place I realised Eten Café is more of, as the full name says, a bistro and a teahouse than a coffee café. But the waitress was happy to make me a macchiato after admitting they get very few orders for the drink. My macchiato was served in an ornate white and gold cup perched delicately on a white and gold aster-shaped saucer. The presentation for the macchiato within was just right, with a cap of white foam melting into a brown crema. But the cup made me feel as though I was an honoured guest in some royal's palace somewhere. The coffee, brewed with Sequella Gold beans, tasted quite weak so I wasn't impressed; but visually I was captivated with the white milk froth and gold crema which matched the white and gold of the cup perfectly. And I enjoyed picking up this garish work of art by its shiny golden cup handle. I did, however, resist the urge to poke my little finger out in a traditionally posh manner.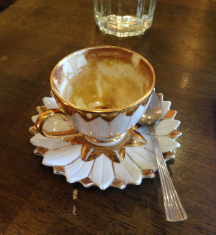 The café features a mixture of art on the walls: colourful animals including a triceratops, fairly plain paintings of rolling-hill landscapes, photos, and graphic drawings of subjects such as a cordless phone and a shoe hanging from a power line. The view out the window is of the side of the cathedral and the lawns and the lunchtime workers passing by. It's all quite peaceful, even with that shoe dangling above and the threat of that phone ringing.

The bistro menu, although a bit lengthy in choice, looks good, and by all online reports the food is good as well. And, as would be expected, there is a very long loose leaf tea menu, and the bottled beers include ales from the local Bradfield Brewery. The café naturally offers cream teas with a choice of scone, including their "charity scone" which changes each month and for which one pound of the purchase price goes to charity.

So Eten is a pleasant enough place and probably very good if you're looking for something to eat. Sadly the coffee is not very good and obviously isn't their forte. Also, at the price of £2.10 for a macchiato is a bit steep for me, but I suppose a good chunk of the lunchtime clientele includes workers from the nearby solicitors' offices, so they can afford it. I think I'll stick to my under-two-quid macchiatos for now.

Speaking of being able to afford things reminds me of an extremely brief Concrete Appreciation Society Facebook posting from last spring just after the election:

Wish I could fly out right now to Wisconsin right now to visit Fred Smith's Wisconsin Concrete Park, ranked Number 1 of six attractions in Phillips, Wisconsin. Wow. Maybe you can get a Fulbright grant to fund your trip and support your very vital research. That's a good idea. Will definitely need funding for the trip, as the new Tory government will probably be phasing out money for the nonrich.

Related Links