Back Buzz - October 20, 2011
Fusion Organic Café, The Butcher Works, 74 Arundel Street, Sheffield, South Yorkshire
It was only a few months ago that I discovered Butcher Works, located in Sheffield's Cultural Industries Quarter just down the road from Sheffield Hallam University. My walking companion Trevor and I had organised our own historic tour of central Sheffield -- ending up, of course, at a fine cask ale pub or two. Along the way we popped into Butcher Works and were delighted to find in the gallery a shining steel chestahedron, a bell-like volume constructed of four equilateral triangles and three quadrilaterals and invented by American sculptor Frank Chester.

Originally built in 1835 to house a cutlery and grinding workshop, the Grade II* listed Butcher Works currently features the gallery, workshops, and a cafe. I decided to check out the Fusion Organic Café after I read just recently about their excellent coffee.

Located off the gallery, the cafe is roomy with the wood floors and furniture and brick walls giving the feeling of a sunlit cellar. On one side freshly baked bread from the cafe's own Ruskin Mill Bakery was stacked up, and a chalkboard of specials listed a surprisingly large variety of actually quite exciting-sounding vegetarian quiches with ingredients like roast garlic and bleu cheese. I had to keep my wits about me, as it was just before work and I had packed my lunch, and I'd only stopped in for a coffee. Yes. Only a coffee, I told myself firmly.

Browsing the menu I learned that the coffee is completely fair-trade: "biodynamically" produced and traded directly from Brazil using single-origin 100% Arabica beans. The lamb and pork used in meals come from the cafe's own farm, the free-range chickens come from a local source, and the fish comes from the northeast and Scottish coasts. The menu does look unique and tempting: what about a salmon and goats cheese filled croissant? Or a Moroccan lamb pasty? How about Cajun roast monkfish and aubergine salad? Roast caper polenta topped with Mediterranean vegetables and haloumi? No, no, no! I came for coffee, dammit! Don't get sidetracked...

Displayed prominently on the front of the order counter, the espresso machine is a huge steel tower of a powerhouse, and the barista seemed very proud of it. My double macchiato, although a bit dear at £2.30, was amazingly robust and so thick on the tongue it reminded me of a Turkish coffee. Beautifully served in a dainty little cup that belied the power within, the coffee was rich and full like I rarely taste in this city. It was truly remarkable and definitely not for the light-hearted. Yee-haw, giddyup!

Now, if only I could afford a £2.30 macchiato more than once in a blue moon...

Speaking of not being able to afford an expensive espresso reminds me of a recent e-mail exchange with my Bay Area friend about a potentially money-saving idea for wannabe parents:

A local pub of mine closed for a month when the landlord retired. The local Thornbridge brewery took over, and it just re-opened last week. It's a wonderful pub now with gorgeous beer. The photo below hangs on the wall in our favourite room. My friend Trevor's caption was: "I have produced this baby and so my duty is done."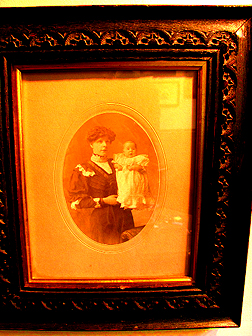 That baby looks rather tall and erect. Was it common practice to suspend them on a rigid frame for photographic purposes? (Gives a new meaning to
"baby on board"
.) It almost looks like a marionette, which would make it a rather more interesting photo, to see its jaw move and its head twist around. What a good idea for people who either can't produce babies and don't want to adopt, or for those who simply don't want the trouble and cost of raising a child: hand-puppet infants! "Don't feel left out again at the in-laws' gatherings! Want an excuse to fraternise with the moms and dads in the park? Bring along Baby-On-Board! It gurgles, it giggles, it drools and spits up, it even breaks out in rashes and throws tantrums! And with the patented hands-free Auto-Baby-Pilot System, you can give yourself a rest when you need to!"
Related Links
---