Back Buzz - July 19, 2015
Golden Harvest, 74 Cambridge Street, Sheffield, South Yorkshire
I apologise for being so late with this column, but I have to admit I haven't been too inspired lately. It's summer and I'm working extra hours inside a large building where I hardly ever see the sun and the sky, and the thought of making the effort to get to yet another office-lunch cafe to write about the same decor and the same satisfactory but never life-changing or even scintillating coffee experience was frankly starting to depress me -- and it was even affecting my ability to write short sentences.
When a couple of friends told me they'd spotted a new coffee place somewhere in town near John Lewis I thought I should lift myself out of my creative lethargy and make the effort to go find it, especially since they said it was "weird-looking". They didn't know the name of it or exactly where it was, so my first effort to locate the place was fruitless as I wasn't sure just what I was looking for or where to find it. Then I learned from another friend that it was called Golden Something, possibly Golden Harvest, she thought. That confused me a bit, as Golden Harvest was also the name of a shop over in the Forum Shops. After our table tennis games at the Common Room a few years ago, my late friend Trevor would pop into Golden Harvest and purchase all manner of rolling papers for his eclectic tobacco collection. There couldn't be two businesses called Golden Harvest in the city centre, could there?
The other day I decided to make another effort to find the place. I found myself standing in the middle of Cambridge Street, confused once again because my Google Maps app insisted it was right next to the Tap & Tankard -- but there was nothing there but a couple of boarded-up shop fronts. Frustrated, I finally popped into Henry's Cafe Bar and asked if they knew where it was. I was successfully directed to Golden Harvest, down the road on the corner of Pinstone Street not far from Specsavers. It was so obvious that I was quite surprised I hadn't seen it before.
It was a cloudy, balmy and breezy day, and the little cafe's atmosphere seemed to welcome me with open arms. The seating is sparse and scattered, consisting mostly of window stools. I sat at one of the window seats, taking in the outside view but also enjoying the inside view. The cafe is a wonderfully quirky place, with big abstract paintings on the wall, an old Wurlitzer jukebox in the corner, and a Yamaha electric grand piano parked behind me which was making me drool. Temptation, temptation… On a ledge above the front door is a pair of disembodied legs perched on a stool, which reminded me of the disembodied legs projecting out of the ceiling at the Cuckoo in Belfast. And there are fun little objects here and there, reminiscent of my own toy-and- tchotchke-sprinkled home.
My macchiato was prepared by a macchiato virgin who had just started working there. After I explained what a macchiato was she did a perfect job with her initiation. Served in a black macchiato cup, the coffee was strong and robust and just what the doctor ordered on this meteorologically lethargic day, and the foam was just right. It was a bit pricey at £2.00, but it was definitely worth the expenditure, because this was a truly exciting and stimulating macchiato which I felt relighting a spark in my currently monotonous life. Or was that just the caffeine rush?
The sparse scattering of cafe occupants all seemed like creative types, and I felt happily at home. A woman was proudly showing off her drawing of a pineapple on a board which was to advertise fresh fruit smoothies. Outside another board announced the food specials for the day which featured leek and potato pie, Moroccan butter bean pie, and Mexican chilli. Behind the counter were homemade cakes and homemade sandwiches. I noticed they had bottles of hot sauce on the counter right next to the cakes, which brought to mind Zippy the Pinhead's love of Ding Dongs and taco sauce. Everywhere I looked I was newly inspired with fresh things bouncing through my imagination, and I actually felt…happy. Could a very simple little cafe really cause that kind of epiphany? Or was it more due to the thoroughly enjoyable caffeine boost that I'd been craving for days?
After I paid and walked out the door the pineapple artist, whose name is Louise, coaxed me back into the cafe to show me the upstairs shop. Sure enough, this is the old Golden Harvest re-opened as a shop, cafe, and music venue. We chatted for a bit, and I promised I'd be back. I will most definitely come back here, even if it's just for a quick coffee and a side of inspiration.
Speaking of inspiration reminds me of a short Facebook posting about a recent photograph my Bay Area friend took in Arcata, California: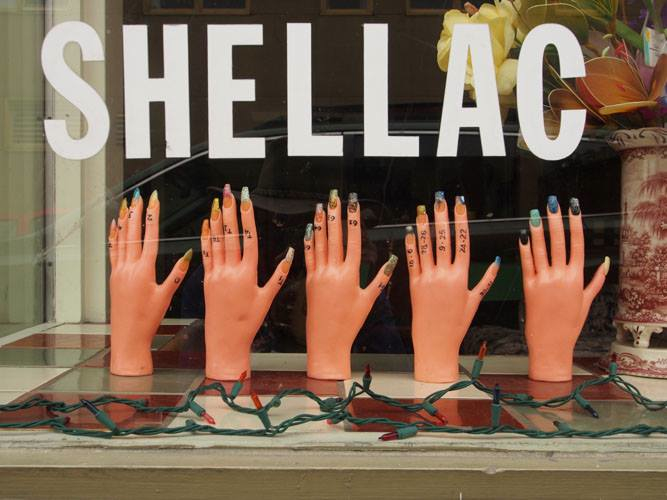 Weren't the Shellac a Native American tribe who intimidated their enemies with their painted war nails and tattooed fingers? Yes, I believe you're right! With my SoCal-centric education I never studied tribes beyond the WD40s of Bakersfield, but I see that the Shellac were part of the great Permatex nation. In addition to what you mention, they had a mechanical advantage over their rivals thanks to their superior gasket sealant:

Related Links