Considering cafes and coffeehouses are only just beginning to open again in the UK, after four months of the Covid-19 lockdown, I don't have a new coffee venue to write about yet. But obviously, during these long months of lockdown, I've needed to rely on brewing my own coffee at home.

After a couple of weeks of finding only adequate supermarket coffee beans -- specifically Taylors of Harrogate Italian Roast, as those were the only beans I could find in my neighbourhood -- it was obvious that online ordering was probably the ticket for Summer 2020. The problem was that I couldn't find many places that were selling coffee beans at a reasonable volume and price. Certainly some of the coffees I found looked like they were probably pretty good; but spending eight quid for a little over a hundred grams, which would last me less than a week, didn't sound too sensible.

During the first weeks of the Covid-19 lockdown, I was so envious of my friend Mistah Rick, who lives in the Bay Area of California. Here in the UK we saw the complete closure of all of the pubs, with only some local breweries left open and brewing, delivering minikegs and bottles and cans to homes. Likewise, all of the cafes and restaurants were closed, so I avoided using my home espresso machine in favour of my cafetiere, simply because I didn't want to start craving what I couldn't have, which was a proper barista-made macchiato. Where Rick lives, though, lots of brewpubs stayed open, serving takeaway pints and food to curbside customers, and a lot of the coffee places did the same. I was moaning about this one day, observing with envy Rick's photo of the freshly-prepared cappuccino and croissant that he was currently enjoying on an outside bench while taking a break from his daily exercise of cycling. The next thing I knew he had posted some coffee beans to me.

When I finally received my pound bag of Catahoula Butkus beans I was so excited. Rick, however, was a bit concerned when he learned the package had taken five weeks to travel from California to Sheffield. I assured him I could still smell a bit of the aroma from the outside of the waxed paper bag, but it was a shame it took so long to be delivered. The next morning, having finished my tolerable but unexciting beans, I excitedly ground some of the Butkus to start my day on a new high.

Although the beans undoubtedly lost a good deal of their flavour and robustness, the coffee is still quite nice. I could detect the nutty, chocolatey character that I imagine would have burst out of the cup had it been fresher. On the roasters' website the coffee is described as having a blueberry character as well, but I think that may have faded away a bit. Still, the wake-up waft of aroma that rose from the coffee grinder was enough to excite my caffeine-starved brain cells first thing in the morning.

Catahoula is an independent roastery run out of a cafe in the East Bay neighbourhood of Richmond. Their coffee is all fair trade, and the company hosts lots of neighbourhood events, performances, and fairs, and they provide free coffee for the local council meetings, so it just makes one feel good about grinding up and consuming their beans. The company is named after the owner's dog who is a Catahoula or leopard dog. I wonder if leopard dogs enjoy drinking coffee. (My childhood collie, Bonnie, certainly did, especially with milk and sugar, slurped surreptitiously from my mom's cup when she wasn't looking.)

And last but not least, the Catahoula Roastery even has their own TV commercial. "Mmm, this coffee tastes great!" "Of course it does, dear! It's Catahoula Coffee!"

Back when life was normal, a couple of times a week I would buy my pre-work coffee from the Motore Coffee Van, located close to the train station and my university. And one morning, just before the lockdown started, Rosie insisted I try having my double macchiato made with a very special coffee they had just received from Sheffield's own Smith Street Roasters. The coffee, Barrel Aged Common Grounds, is a collaboration between Dark Woods Coffee Roasters in West Yorkshire and Magic Rock Brewing in Nottinghamshire. It consists of beans aged for two weeks in bourbon barrels before roasting. The idea sounded good to me, so I ordered my drink and carried it in my closed reusable cup into work. When I got into work I opened the drinking slot, took my first sip, and let out a loud "WOW!" I immediately popped the lid off and made my two workmates who were present (fortunately both coffee and alcohol drinkers) smell it.

I texted Andrew and told him about it, and he suggested I buy some beans to bring home if I could. So I went back out and down to the van. Rosie said she didn't have any available to sell, but she could order me some and they'll be there in a week. It was £12.00 for 250gm (I normally pay £4.50 for the same amount of beans from my usual source), but it was a splurge, and we could save it for drinking on special occasions.

The Barrel Aged Common Ground coffee consists of Ethiopia Yirgacheffe Arabica beans that have been aged and cured in Kentucky bourbon barrels before roasting. When I finished my most unusual macchiato I was strongly aware of the taste of bourbon in my mouth, and I did worry about the possibility of anyone smelling it on my breath, especially as I was just started my work day. But it was such an exquisite experience I really didn't care.

One morning, about nine weeks into lockdown, I didn't have quite enough beans to grind for my two morning coffees, so I opened my Common Grounds beans and added just a small scoop. The grinder, as well as the entire kitchen, instantly exploded with the smell of whisky, which is not something one really expects or desires at 7:00 in the morning. Because I hadn't been awake very long, I found the coffee way too alcoholic, like drinking a big tumbler of Jack Daniels for breakfast. Some people may think this sounds like a good idea, especially people who have been drinking heavily during lockdown, but I wasn't quite up to it. So I wrapped the beans up tight and put them away for a special afternoon, or perhaps evening, treat.

Needing a regular supply of beans, I decided to give another Sheffield roaster, Pollards, a try. When they used to have a shop and cafe in the city centre I always bought my beans from them, as they were decent quality and also affordable. Checking their website I discovered that not only do they have a very wide variety of beans to choose from, but they would be even cheaper than the Starbucks beans I had been reduced to purchase because of their lower price. And I could order a whole 500 grams at a time instead of the measly 250-gram or 227-gram bags everyone else offers.

My first order, which arrived a day later, was 500gm of French Roast beans. The coffee was nice, but not quite oomphy enough for me. So I next tried 500gm of Italian Roast beans, which were darker and better, but surprisingly not that much different from the French Roast.

My third try was 500gm of Ti Amo beans, another dark roast which has become one of my favourites. It seems much more aromatic in the grinder than the previous two, and it has a very pleasant character all the way through the cup. As I'm only drinking cafetieres at the moment I look forward to trying this in my espresso machine when I get back to a full workload in the autumn.

My next selection was the Supreme Blend, which is again nice but not quite as robust as would send me into deep-roast ecstasy, but still very enjoyable. And then came Puccini, which for some reason imparted the impression of sipping a morning coffee in a grassy field. At the moment I'm enjoying some Monsoon Malabar, which is somewhat lighter than I remember it being, but still pleasant.

As things are starting to open again, I'm going to stick with ordering my coffee online from Pollards, because of the price, the convenience, and the variety. So far the Ti Amo and the Supreme are my favourites. But considering the Pollards website currently offers 26 different choices, I will continue my tasty exploration through the options, at least all the dark roasts. I do enjoy a challenge...

Speaking of being locked in for months, with too much time for surfing the Internet, reminds me of a recent email exchange with my Bay Area friend about an impressive new invention:

In catching up with an old issue of a BBC Science magazine from early 2017, in the Tech section they reviewed the Flashtorch Mini, a small camping flashlight that is so powerful in lumens that you can start the campfire with it. Can you imagine all the fun you could have? I can see someone unzipping their tent in the middle of the night, grabbing their little Flashtorch, and groping through the forest in search of a place to pee when suddenly, WHOOSH! No more forest! I suspect it would be good for self-defence as well. If you wake up in the middle of the night and hear an intruder, you can grab your flashlight to see who it is. If it turns out to be a burglar, you can just turn up the lumens and WHOOSH! No more burglar!

I think this lack of social contact is definitely darkening my fantasies... That's outrageous! "Can incinerate anything in its path!" That gave me the idea of concealing one of these in the mouth of your giant Godzilla. What an idea for a party to have it marching around igniting appetizers and melting holes in the sides of guests' drinks.

Does it come with a clip for carrying on a pocket or belt? If so, I hope it has one of those safety interlocks that prevents you from bumping it on accidentally. You wouldn't want to burn a hole in your pants pocket and ignite a bush fire.

The short YouTube video transitioned into the first of a seemingly endless series of lengthy demonstrations in the hitherto unknown world of Adventure Sport Flashlights. The host of this video, Matt Smith, is a real entertainer. Proficient at the machining necessary to construct ever more powerful flashlights from the existing electronic components, casings and battery holders, he can also dance in the woods, when necessary, to demonstrate the illuminating power of his devices. This is scary as shit! I suppose, now that both of us have watched these videos, we're probably marked on some official website as potential laser arsonists. Oh well, I guess we'll never get security clearances in aerospace now...

My god, I thought ordinary people purchasing drones that are capable of shutting down entire airports was scary enough. What is the world coming to? Perhaps this is the time in our history to get the loyal followers of the late painter of "happy clouds", Bob Ross, to create a vast army of drones loaded with high-powered Painting Joy Torches that can splash happy clouds all over the landscape as far as the eye can see. And for all the frustrated locked-in video gamers, how about a release of Happycloud Torchdoom Eternal, featuring the most intensely light and colourful CGI graphics ever?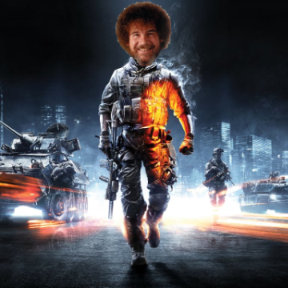 Related Links