Back Buzz - November 11, 2018
While I was visiting Long Beach and Los Angeles in September my good friend Mistah Rick drove down from Oakland so we could spend a couple of days exploring brewpubs. On the morning that we were to meet, I took the Blue and Expo Lines of the Metrorail up to Exposition Park, not far from USC. We had arranged to meet at the California Science Center so that we could first see the exhibit of the Space Shuttle Endeavour.
I hadn't been to Exposition Park for years, but when I was a child my dad used to drive us up from Long Beach quite often so that my brother and I could see dinosaurs and other animals at the Natural History Museum and play with all the hands-on science experiments at the Science & Industry Museum. I also remember visiting the Los Angeles County Museum of Art in Hancock Park, whose top floor at the time housed a lot of very fun modern art, much of it three-dimensional, and just behind the museum were the famous La Brea Tarpits. The California Science Center postdated all of this, having opened in 1998. It's located just behind the Rose Garden and amazingly convenient to the Metro Rail stop.
The Endeavour visit was really enjoyable, and we learned a lot about the space shuttle by chatting with one of the volunteers who let us feel samples of all the different tiles used on the outside. For space geeks, there are 24,000 tiles in total, the majority made of 5% sand silica and 95% air, and each tile costs about US $2000. And the giant Michelin tires are inflated with nitrogen rather than air because the molecules are a lot bigger than oxygen molecules and therefore resist fire better.
(I could tell you all sorts of other fascinating details, especially about the Space Shuttle Potty exhibit, but I realise you're reading this column because you're expecting a review of coffee as opposed to museum exhibits, and I don't want to bore you. So I'd better stop twaddling on about nonfluid matters...)
After getting our fill of the exhibit, we headed out to Rick's car, passing some interesting fighter bombers and other aircraft on the way. We then drove up to Los Angeles's Arts District, located just east of downtown, to find some coffee, and we ended up at Urth Caffe. Rick had been here once before, but it probably wasn't during a Tuesday lunchtime when it was very crowded. There are two levels of patio seating, and as it was a typical September day in Los Angeles, meaning hot and sunny, this is where most of the customers were sitting to eat their lunch, and the food looked pretty good. We dumped our bags at a table on the upper level and went back inside to order our drinks.
The first Urth Caffe was opened in 1991 in Manhattan Beach by Jilla and Shallom Berkman, who are both passionate about quality organic coffee, so we were looking forward to our cappuccino experience. On the menu two cappuccino choices were listed: American or Italian. This confused us, as we both presumed cappuccinos to be Italian, and we had no idea what would distinguish an American cappuccino. Since the Italian cappuccino was described as a cross between a cappuccino and a latte, which sounded like too much milk, we went for two small American cappuccinos.
We returned to our table, looking forward to our cappuccinos. But what we were served were big white latte cups filled to overflowing with a massive mountain of white fluff piled high up. There was no room or textural environment for a rosette of any kind, much less the bird-and-branch rosette displayed on their logo.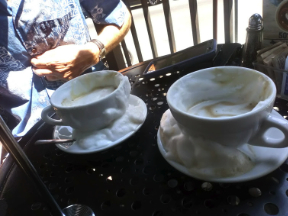 It looked as if it would be awhile before we would be able to ski through the giant clouds to reach any coffee that hopefully was hiding below. I did get the impression the organic coffee itself probably tasted pretty good, if one could actually reach it, and if the idea of coffee could still be detected after the excess of milk. So what the hell would an Urth Italian macchiato look like? Oh well, it was too late to find out. I couldn't help wondering what one of their macchiatos must look like.

There are currently eight Urth Caffes spread around LA and Orange Counties and one in Las Vegas, with a ninth location on the way. The food menu features sandwiches, paninis, salads, pizzas, all sorts of lunch entrees from lasagne to smoked salmon and vegetarian tamales, and a wide variety of breakfast choices: cereal bowls, omelettes, all sorts of egg dishes, waffles, breakfast burritos, scones, desserts, cakes -- my god, you name it, the menu's huge. Urth's beans are available to purchase in the cafe as well, and there is a wide choice of blends, varietals, Swiss decaf, and limited reserve beans.

Eventually we decided to abandon our oversudsing washing machine disasters, hoping there were no skiing casualties buried underneath, and head off in search of a more satisfying coffee experience. As we had other things on our agenda it wasn't until later that afternoon that we accomplished this, but when you're off work and you don't have to catch any flights or anything, time is pretty irrelevant.

Speaking of the irrelevancy of time brings to mind a recent Facebook posting session by an old friend:

At the tone the time will be...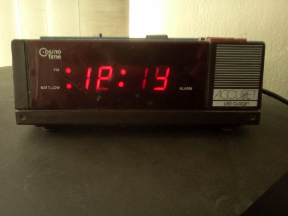 The digital display alarm clock I inherited from my late father in 1986, which he would have bought sometime between 1974 and then, seems to be in need of a long vacation. I'm not sure when he bought it, it wasn't new when I got it, but it's been working tirelessly for at least 32 years and probably something closer to 40 -- or more. But now... vacation time.

FWIW, I'm not giving up on it. I'll give it a few days rest and see... Are you sure it's not an attempt at communication... They're Here... Re: the battery low thing... I pulled the back up battery out decades ago, so that's not it. Dystopian disfunction. Does it play the Strawberry Alarm Clock? I got my dad's Omega fixed back in the late 80s and that seemed worthwhile. I'm thinking I'll just let this guy sit for a while and see if he doesn't fix himself. I'm a big believer in giving some devices a chance to fix themselves. You might be surprised. Living on Cosmo time... It's freaking out!!! When I first moved to England I bought a used clock, very much like this one, for a pound. It was in the attic where I do artwork. But this year I finally retired it because I don't really need to know the time on Planet §¥¿¶,. Everyone is trying to fix it and nobody is trying to understand! DNA, investments or just 1ply TP? What does it mean??? I have enough trouble reading the writing on the wall... I have enough trouble reading the writing on the wall... Perhaps you should check it into a Cognitive Timekeeping clinic for a week or two. Give it some time to relearn how to display the correct time, once it understands that's what you would like it to do because you care about its welfare. If that doesn't work, you could always try changing the head gasket.

Related Links