Previous Pint Pleasures - May 18, 2019
| | |
| --- | --- |
| | Far Bar, 347 East First Street, Little Tokyo, Los Angeles, California |
| | |
| --- | --- |
| | Traxx Bar, Union Station, 800 North Alameda Street, Los Angeles, California |
My British readers will probably be relieved to learn that this is the last instalment from my 2018 trip to California. Whenever I meet up with my California beer-tasting friend Mistah Rick we are always faced with such a wealth of places to visit, and it takes awhile to write about them all. I've tried to intersperse a couple of Sheffield reviews among the California ones, as a lot of good stuff is happening back home where I live.
It was a Tuesday when I took the Blue Line from Long Beach up to Los Angeles. After transferring to the Expo Line I met Rick at the California Science Center in Exposition Park. We had arranged to meet there in order to see the Space Shuttle Endeavour exhibit. The exhibit was fascinating, the Space Shuttle itself was stunningly impressive, and we got to feel the giant Michelin tyres and explore the Space Shuttle Potty Exhibit. As it was a quiet morning we spent a good deal of time talking to one of the volunteers who, like the two of us, was a former aerospace worker. He told us all about the various tiles used depending on the location and the heat and speed pressures they would undergo. There are approximately 24,000 tiles in total that make up the exterior of the shuttle, and the majority are 5% sand silica and 95% air and can withstand up to 2300°F. And each of these tiles costs about US $2000, so that's a total of nearly 50 million dollars spent just on tiles.
But enough about space shuttle tiles, as I could go on for pages. After we finished at the museum we had a coffee in the Arts District and then ended up in Little Tokyo for lunch and our first pint of the day. Finding the Far Bar was a bit difficult, as it's a nonobtrusive place in the middle of the street, surrounded by Far Eastern cafes and shops and very close to Little Tokyo's wonderful Toy District.
As we entered the dark bar/cafe we didn't immediately get the impression of a craft beer experience waiting to happen. We sat at the bar and admired the marbled-wood counter that was topped with a smooth, perfect coat of resin -- or so we thought. On closer inspection it was just wallpaper.
We quickly scanned the multi-page list of Asian whiskies but quickly turned our attention to the beer menu. We first shared a taste of Kiuchi Hitachino Nest Anbai Ale (7.5% ABV, Naka-shi, Ibarati, Japan), which is a sour Gose beer. Apparently anbai means "salty plum". This beer is based on Hitachino Nest's signature white ale which has been infused with green sour plum and finished with a pinch of Japanese sea salt. It was a great aromatic sour; but as it was barely lunchtime we both felt it was more of a "later" pint. So we decide on sharing two IPAs. After a taste of Woods & Water IPA (6.2% ABV, Maine Beer Company, Freeport, Maine), brewed to commemorate the Katahdin Woods and Waters National Monument, we decided it was a bit bland, perhaps because the previous taste gave a significant punch of hops to our palates.
We ended up going for pints of Vallejo American IPA (6.7% ABV, Half Acre Beer Company, Chicago, Illinois), which had a great hopsy aroma and was crispy and very drinkable. The other pint was El Segundo Clear AF IPA (6.9% ABV, El Segundo, California). Brewed in collaboration with The Full Pint Brewery of Pittsburgh, Pennsylvania, it sadly was running out, so the barman gave us the last two-thirds of a pint without charge. This pint possessed a very bitter hops flavour with a tinge of sweetness on the end.
For lunch we shared plates of spicy tofu tacos and wasabi fries. Sadly the spicy tofu tacos weren't spicy and they were very dry, as there was nothing at all but deep-fried tofu in the tortillas. A touch of sauce would have been welcome, but perhap they forget to add that. The wasabi fries were nice, though.
As we walked out onto East First Street we noticed that etched into the pavement in front of each building is a brief history of that particular address. For instance, the Far Bar is adjacent to the Daimanu Hotel, which up to 1940 was the Union Hotel, and before that the Ushikowa Hospital, the office of Dr W Tsukifuli, Dentist, the Nihon Hotel up to 1910, and in 1890 it was the Queen Hospital. What a great idea in a historic part of town. Where I grew up in suburban Long Beach was nothing but soybean fields up to 1952, so I suppose it wouldn't be particularly informative in most parts of Southern California.
A few days earlier I had taken the Blue Line up to Union Station to meet my friend Kimmer. We were going to spend the afternoon at the Brand Library in Burbank to see the art show in which Kimmer had an entry. Before leaving Union Station we popped into Traxx Bar for a quick drink. We sat at the bar where Kim had a ginger ale and I went for a pint of Stone IPA (6.9% ABV, Stone Brewing Company, Escondido, California), which is always a welcomely refreshing brew. We chatted with the enthusiastic barman about Mexican restaurants. He said there was an excellent one very close by, and obviously there are some decent ones in Olvera Street, which was just across the road. Before we left I had a taste of Sumpin' Easy Ale (5.7% ABV, Lagunitas Brewing Company, Petaluma, California). Even Kimmer, who rarely drinks, liked the taste of this, but I have to admit it was a bit too sweet for me. So I was happy I went with the Stone.
So I've come to the end of my 2018 California batch of beer reviews, so I'll continue next time with some more Sheffield experiences. Oh, one last note: the excursion to the art exhibit to see Kimmer's painting was well worth the trip, as shown below: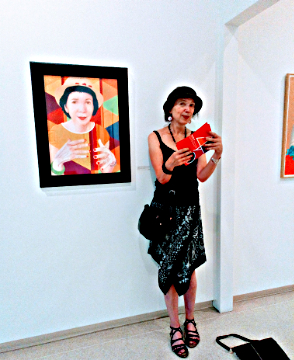 Related Links