Previous Pint Pleasures - October 9, 2010
| | |
| --- | --- |
| | Pizza Port, 571 Carlsbad Village, Carlsbad, California |
| | |
| --- | --- |
| | Pizza Port, 301 North El Camino Real, San Clemente, California |
On my recent visit to my native California I spent a long tasty weekend touring the breweries and brewpubs of the South Coast with my Bay Area friend, Mistah Rick. Driving south from my mother's house in Long Beach, our first stop of the weekend was in the city of Carlsbad, 40 miles north of San Diego. Over 40 percent of Carlsbad is open space including a long coastline, three lagoons, and miles of hiking trails.
As we arrived at lunchtime, we were much more interested in a pint and a bite than a walk in the fresh sea air. So we headed for Pizza Port. Located in the centre of town at the corner of Roosevelt Street, this Pizza Port which opened in 1997 is part of a pub and pizza restaurant chain, with other venues in Ocean Beach, Solana Beach, and San Clemente. Before we entered we browsed the windows of the Pizza Port Bottle Shop next door that sells over 600 different beers from across the US and around the world, including some local rarities. Behind one of the pub's windows we watched in awe as a fermenter bubbled and spewed forth a yeasty foam, giving birth to a new batch of beer.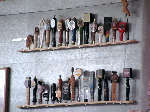 The pub itself is a huge room with long communal tables on the main floor, booths on one side, a bar area on the other side, and all manner of surfboards hanging from the ceiling. An unobtrusive flatscreen TV behind the bar was showing a thankfully muted baseball game. The place was packed with people including quite a few families, obviously there for the cheap and cheerful food as well as the wide range of microbrews.

I was very excited to see 2 handpumps among the many beer taps, so I had a pint of Que Onda? IPA on cask (7.8% ABV, Port Brewing, San Marcos, CA). Described as a West coast style IPA dry hopped with Bravo, the hoppiness suggests the tropics. One sip and I was home, home in Sheffieldseattle. I could find absolutely nothing to criticise about this beer, not even constructive criticism. It is truly perfect, with a lovely head, and it was served at a perfect temperature for cask ale. I was in heaven! I was weeping tears of joy; I had died and gone to Real Hops Heaven. My hops, I believe! Rick had a pint of Poor Man's Double IPA (9.0%, Port Brewing). Double-hopped, this lovely IPA is perfumed with woody shrubflowers. It's like a cool walk in the woods.
We shared a 10-inch Veggie and Garlic pizza with spinach and feta. As we sat in our booth and dined and happily sipped our pints, we noticed many of the customers at the tables were so busy stuffing their faces with food that they seemed to be ignoring the wonderfulness of the drinks. Certainly the pizza is tasty, but the wide range of excellent microbrews should have been the priority. At least that's what Rick and I thought.

Before we left we had a $1.00 3-ounce (89 ml) taster glass of Coffeemonster (9.3% ABV, Port Brewing, San Marcos, CA), a coffee imperial porter made with beans by Portola Roasters of Irvine. It's like a shot of espresso, or perhaps a Turkish coffee. It's a very nice lunch finisher. And the nose, the nose! It makes me want to sit down at an old-fashioned typewriter with a large pot of Coffeemonster next to me and re-write Nikolai Gogol's short story "The Nose", about a nose that goes missing one day and is later seen socialising with microbrew drinkers at a local pub.
Pizza Port
San Clemente

Two days after our visit we passed back through Carlsbad in hopes of catching a glimpse of Legoland without paying the hefty entrance fee. So we made another brief stop at Pizza Port to have a post-breakfast taster of Coffee Monster as we stood at the bar. And there were two other customers standing at the bar doing the exact same thing.

(In case you're wondering, our brief glimpse of Legoland failed. After finding ourselves trapped for 20 minutes in a huge multi-lane queue of cars gradually being sucked into the pay car park, Rick demonstrated his masterly ability, when a microsecond of opportunity opened, to whip the car around in a tight U-ey and escape. We glimpsed only as much as the large WELCOME sign built of Legos.)
At the end of our South coast brewery tour we stopped at the Pizza Port in San Clemente. Located on the southern coastal edge of Orange County 6 miles south of San Juan Capistrano and just north of a US Marine Corps base and a popular surfing beach, San Clemente was named after one of the Channel Islands off the Southern California coast, and it was developed as a Spanish-style resort by a former mayor of Seattle. Unfortunately it's probably most famous as the location of Richard Nixon's "Western White House".

Opened in 2003, this Pizza Port is in a two-storey Spanish style building with a car park on the roof. Inside we found the same open floor plan as the Carlsbad Pizza Port, with surfboard decor and large photographs of surfers on the walls, and a bar on the ground floor and another one upstairs. We sat upstairs by a window facing Pacific Coast Highway. Our first pint was the curiously named Pseudo IPA (6.6% ABV, Port Brewing) which a customer at the bar assured us was definitely authentic. It's an intensely hoppy and somewhat catty IPA, making us feel as though we're sniffing that wonderful part of a cat's head between its ears. This cat is a bit of a ratty cat, most definitely a tomcat.
Our second pint was Karl Strauss Rye IPA (6.2% ABV, Karl Strauss Breweries, San Diego, CA), an amber bitter with creamy malt but no trace of treacle. There's a touch of surfer in this beer. Is it a woody character? Or perhaps surfboard wax? All I can say, Herr Strauss, is hang zehn!

(...sorry.)

For lunch we shared a pizza, this one our own creation of jalapeños and red onions. As we dined and sipped we observed the various TVs about the floor, each tuned to a different channel and all thankfully silent. The one closest to us was showing vintage "I Love Lucy".
| | |
| --- | --- |
| Before we left we shared a taster of Festina Peche (4.5% ABV, Dogfish Head Brewery, Milton, DE), which is described as a "neo-Berlinerweiss". Made with fermented peaches, it's slightly sour like citrus, suggesting a white wine of a beer. It was a unique final tasting of our 3-day surfside microbrew odyssey. | |
Related Links
---