Back Buzz - June 25, 2016
Not long ago somebody mentioned on Streetlife that a new bakery had opened in South Road. I thought that was unusual, seeing as how there's not only the Baker's Shop, where one can buy their traditional breadcakes and loaves, but also Gerry's Bakery and Coffee Shop for more interesting artisan breads and pastries. So why another bakery?
But not to worry: this new bakery bakes macarons. That's all: just macarons. And in case you're thinking I might have misspelled macaroons, I'm talking about macarons, which are different. As opposed to those rich little coconutty confections, macarons are meringue-based cookies filled with buttercream, ganache, or fruit cream, and they come in all the colours of the rainbow.
Aside from baking macarons Joni Bakery and Coffee Shop also serves sandwiches, brunches, and espresso drinks. So a couple of days ago I decided to make a visit. Located on the far end of South Road across from the volunteer-run Walkley Carnegie Library, Joni is quite small, with a tiny front room and a few tables in a back room. My double macchiato arrived topped with a wonderful pinwheel rosetta, which delighted me so much I had to take a picture. I suppose the randomly geometric design appealed to my current state of mind, as I've been actively writing a novel which involves neocubism and the fourth.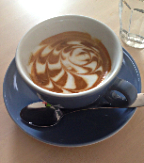 So it took me a minute of aesthetic admiration before I actually tasted the coffee. And I have to admit I was completely blown away: it was absolutely gorgeous, robust and full-bodied with a bittersweet chocolate character. It was so good I felt like I'd died and gone to heaven. I was truly impressed. This has got to be the best espresso I've had in Sheffield for some years – and I can't believe it's in my own sleepy neighbourhood of Walkley.

But I have to admit Walkley, specifically South Road, is definitely perking up. Not only has Gerry's Bakery, with its coffeehouse atmosphere and frequent community events, and the unique little Walkley Beer Company, with its three casks of local real ale, started to change the character of the area, but there is also the well-stocked Beeches for groceries, cheese, and meats, and Tonearm Vinyl for those old-fashioned round record thingies that predate digital music and still confuse the young. Even the library is being converted into a hybrid café-bar-library. At the risk of causing a massive influx of residents, I have to say that Walkley is definitely becoming cool.

As I swooned over my macchiato I was surrounded by people having lunch, and the food looks quite interesting. And speaking of Gerry's Bakery just down the road, all of the bread served at Joni is provided by Gerry. The weekend brunch options include several choices of eggs Benedict, including a vegetarian and a smoked salmon version. That would definitely inspire me to stop in for a bite.

To add to my pleasure, perched on my table was a pair of tiny chairs made out of stiff card. As a lifelong toy collector this is the type of decor I would feature if I had a cafe, perhaps with a few Godzillas here and there. I mean, what's the point in anything if you can't have fun?

Along with coffee drinks Joni features a wide selection of teas, including three flavours of iced teas. The wonderful coffee is Fortaleza from Brazil. They even offer a Vietnamese Iced Coffee which sounds very similar to the Thai coffee my friend Kimmer and I used to drink back in Long Beach. And if you're interested in the macarons, they also sell them online as well as at Steamyard Coffee and Upshot Espresso in Sheffield as well as Teatime Vintage in Totley.

Speaking of the word macaron reminds me of a very short e-mail exchange with my Bay Area friend:

Tim Lomas has been compiling a glossary of foreign words for which there is no English equivalent. Here's an extremely useful German word which I think most of us have experienced at least once in our life:

d Schnapsidee (n.) = a daft/ridiculous plan thought up while drunk That's great. The possible root in "schnapps" suggests ways we might derive a comparable English word based on our own liquors. Maybe a ginspiration?

Related Links