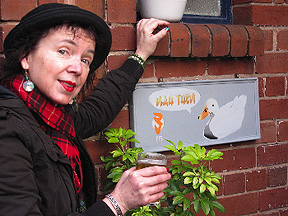 The Fat Cat duck was hiding in the beer garden in its own frame. Trevor had a pint of Sovereign's Escort IPA (5% ABV, Spire) which JC tasted. It's very hoppy but they both agreed it's a bit uninspired in character. JC had a half of Cavendish Blonde (5% ABV, Welbeck Abbey) which has a gorgeous flavour. This is a really classy hoppy brew -- in fact it's a religious brew. It's absolutely gorgeous! It's gorgeous! It's gorgeous, like the most wonderful curry ever tasted. It's gorgeous! JC found herself in an infinite loop. She had to "sup up" and leave before she risked a divide-by-zero error.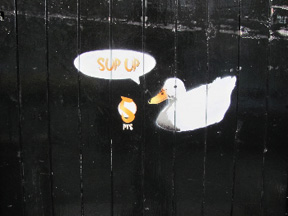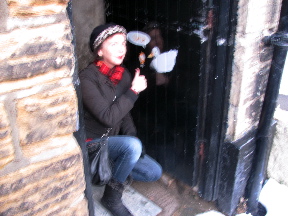 On her duck-spotting visit to the Cobden View JC had a very chewy pint of Thorne Best (3.9% ABV, Thorne Brewery). Unlike the usual pale hoppy beers she drinks these days, this is a classic amber colour, very bitter with a floral fragrance to it. It's hoppy, most definitely, but in an amber sort of way -- and it's so full of taste that she felt as though she were chewing it up bite by bite.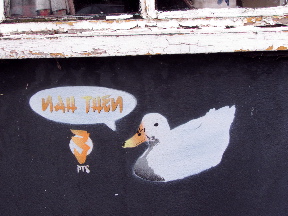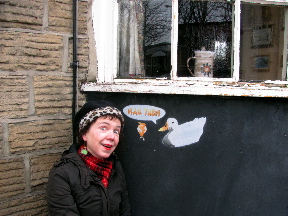 JC hadn't been in the Closed Shop since landlord Chris took over again. The previous time she had stopped here was in the summer, when she was delighted to be met with a long row of handpumps featuring all kinds of local brews. Mike had a pint of Tangled Up (6.0% ABV, Blue Bee), a brilliant beer but too strong for mere mortals like JC. Trevor and JC went for more sensibly ABVed pints of Trio Pale (4.0% ABV, Saltaire). Triple hopped with American hops, this was a very satisfactory pint.