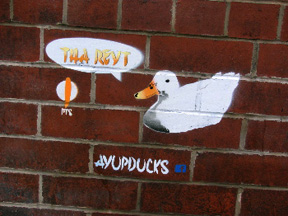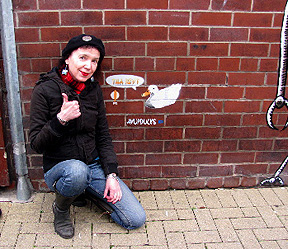 Although JC has regular drinks with workmates at the Rutland Arms, she spotted the duck when she stopped in one day for lunch with Andrew. The two of them first decided to shoot the balloons and have a pint of S.B.C. (5.2% ABFV, Steel City). Based on Escafeld, the pre-Norman name for Sheffield, this brew sent an instant Whooooie! to their palates. Was this going to be fun! Unfortunately -- or perhaps fortunately -- their pints didn't clear because it was the end of the cask, so they had to go instead for pints of Nectar Pale (4.0% ABV, Blue Bee). And this was the best pint of it JC had ever had.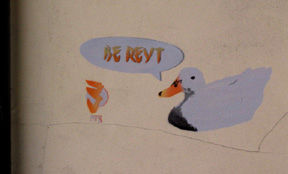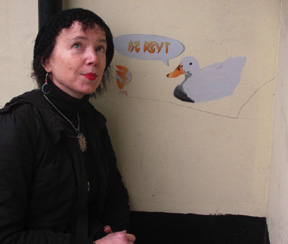 It was a very rainy and windy day when JC and Trevor found the duck at the Noah's Ark, so of course they had to find refuge inside from the flood. JC had a pint of Copper Dragon Best (3.8% ABV, Copper Dragon). It was nice and warm in the pub on this freezingly soaking day, and this brew is a crisp classic bitter that defines the word "bitter" perfectly. As she watched a short pool match between Trevor and Andrew, JC chanted to herself, "num-num-num-num Copper Dragon yes yes!" (Don't worry, it was only to herself.)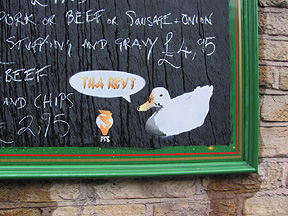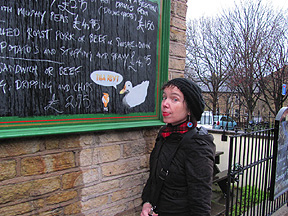 This was JC's first visit to the Nottingham House since Andrew Bodsworth gave up the pub and it was re-opened under new management. The interior was still nice and bright and clean but very stark, there was hardly anybody in the place on this Sunday afternoon, and the barmaid was very surreal, staring intently at JC and Trevor during their entire visit. There were only two cask ales on. But they both had to admit that JC's Farmers Blonde (4.0% ABV, Bradfield Brewery) and Trevor's Deuchars IPA (3.8% ABV, Caledonian) were both absolutely cracking pints. JC described them as gorgeous, brilliant, stunning, radiant, dazzling, sparkling, and striking. She could think of some more adjectives but decided to stop before she became tiresome.